March 9, 2014
Philips was founded more than 120 years ago and is one of the companies proving that you don't have to be a startup to be a digital leader. FastCompany recently put together a list of the world's top 10 most innovative companions in the Internet of Things, and the Dutch company is appropriately listed (among a number of mostly small startups).
I recently met Philip's CIO, Jeroen Tas, at last year's Sogeti International Executive Council event. He openly discussed the tremendously exciting journey his company is on, in which everything changes including market positioning, products and business model. Don't miss these short video clips from an interview with Jeroen at the event… Philips strategy goes far beyond the obvious interactivity of LEDs and its innovative Hue system, we'll soon see their connected technology throughout consumer and workplace environments.
… and if you didn't know already why everyone is raving about connected things, the following projection (from Business Insider) of global Internet devices represents a fair view of what most analysts and companies believe is likely. It's going to impact us and businesses much more than smartphones and tablets ever have.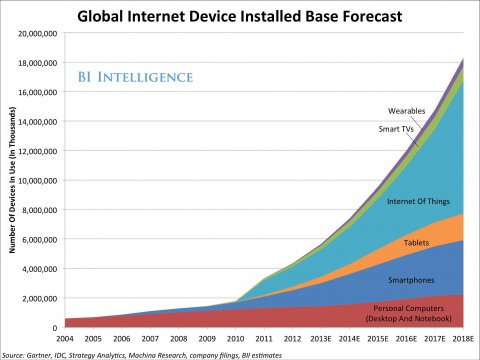 For more reading about business aspects relating to the Internet of Things, check out these articles: