To fully realize the potential of mobile retail it's critical to not think of mobile as just shopping on the go. In one of the latest reports from the analyst firm Forrester, Johanna Marcus (Sephora's director of mobile and digital store marketing), states that mobile is also a tool for research and consideration.
Customers move between channels
This is backed up by data showing that many customers move between channels (web, mobile, physical store) while researching and before actually purchasing. The online and mobile activities involved in research include studying specifications, reading reviews, locate stores and check product availability in stores, which the following diagram illustrates. NOTE: Diagram below is now updated to include 2013 data and it shows significant increases across all scenarios compared with 2012.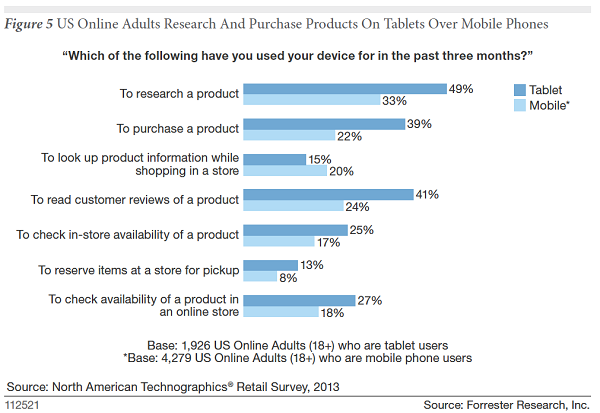 Consider that almost 60% of US online users between 18-24 research products online even while in a physical store, and you'll start to see the importance of a consistent and coherent experience across channels.
Researching vs transacting
It's interesting to note that the behavior of researching products and then transacting either online or in-store, is quite different between different sectors. The following diagram, from the report "US Cross-Channel Retail Forecast, 2012 To 2017" published October 2013, illustrates this.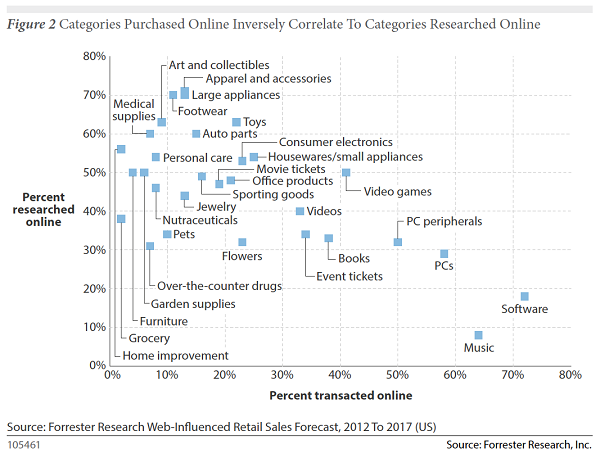 Multi-touchpoint customers are worth more
Companies that manage to facilitate and leverage an increasing cross-channel behavior are rewarded with increased revenues as multi-touchpoint customers spend 3.5 times as much as single-channel shoppers. UK department store John Lewis provides a consistent experience between online and in-store by reaching to as much as 35% of its online sales being delivered through in-store pickup, which drives additional sales in the store.
Using social networks has also been found to drive more revenue. Beauty retailer Sephora reports that customers that interact with them in social channels generate on average twice as much revenue as what "non-social" customers do.
Business driven omnichannel solutions
In conclusion, the data clearly suggests that customers are not only expecting a consistent and coherent omnichannel experience, but companies that deliver this to their customers generate more revenue and achieve a higher degree of customer loyalty. This means that mobile retail is more than shopping on the go, it's business driven omnichannel solutions, and determining the value of those solutions means taking into consideration all of the channels and digital touchpoints in an consolidated way rather than pitching one channel against the other.
Enable the customer to interact and transact with you across all channels.
PS. #blogg100: This post was published on the 4th at 23.37 but the UTC-setting was one hour off…