What determines who wins in today's highly competitive markets? The new digital economy establishes new best practices and rules, driving transformation in how companies and organizations operate.
We've found that companies which strategically drive a digital transformation program, significantly improve in valuation and performance. One of our most valuable tools in helping clients define and deliver winning strategies and solutions is a framework called "Digital Transformation". The framework is created and actively maintained by Capgemini Research Institute and MIT Sloan Management Review. The framework focuses on three major domains of transformation:
Customer Experience
Operational Excellence
Business Model Transformation
In each domain, the framework highlights a number of key transformation and technology areas, and examples of best practice solutions: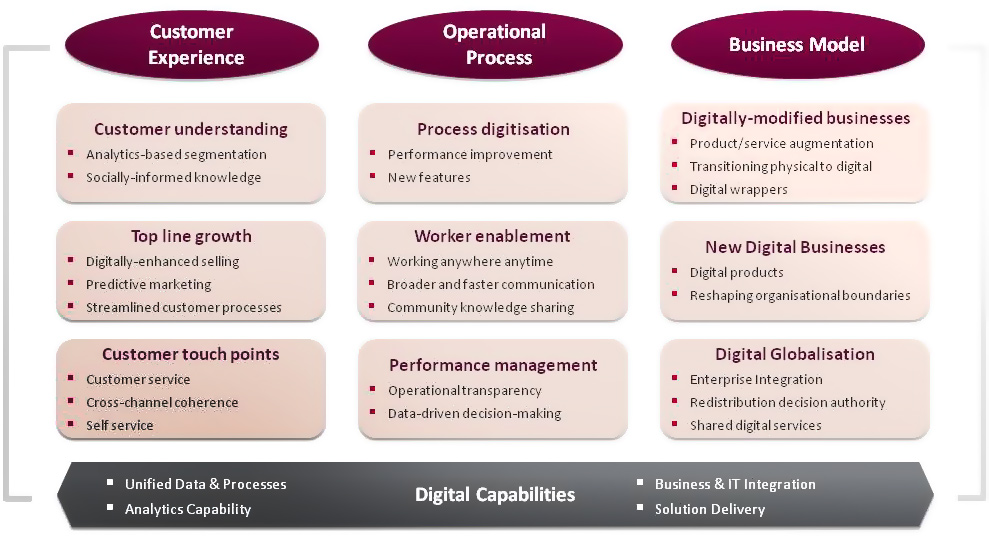 In collaboration with customers we help define detailed roadmaps which target both actual changes necessary of management, organization and processes (Transformation Management) as well as specific new digital solutions facilitating the transformation (Digital Intensity).
The framework is continuously updated through working with thousands of executives in 100+ countries. Capgemini Research Institute publishes case studies, reports and framework updates frequently, and it's a great source of business and technology insights. Below you will find the most relevant links and sources for Digital Transformation.
Digital Transformation sources