The formula of success, in the coming few years, is "3 to the power of i". If you get this formula, you will improve your organization's shot at winning.
Digital transformation evolves around extreme focus on world class digital customer experiences, operational excellence, and business model transformation. That said, you can't succeed in any of those domains without understanding the computing concepts defined in IDC's model of the "third platform". In short, the first model was the mainframe, the second model was the PC model, and today we're building solutions on top of the third platform which is far more complex and stands on four pillars:
Cloud
Mobile
Analytics
Social
So, you need to use and relate your digital solutions design to these pillars, in your organization's transformation. Unfortunately, winning is not as easy to do only this. The future takes this one step further and you now need add the dimensions of innovation capability and emerging technologies.
How you address the topic innovation has become critical. Aspects including "open vs closed innovation", embracing chaos in ideation and incubation, and always quickly testing ideas in real user contexts, are vital to your innovation capability. (My advise is to pick up the book "The Innovator's Method" (by Nathan Furr and  Jeff Dyer) for a practical guide to how to succeed.)
Innovation today has a crucial relationship to emerging technologies, such as AI, conversational UI, and robotics. Forrester Research recently published an excellent model, explaining how different emerging technologies relate to each other, and when to expect them to reach their full disruptive potential. See the illustrations below.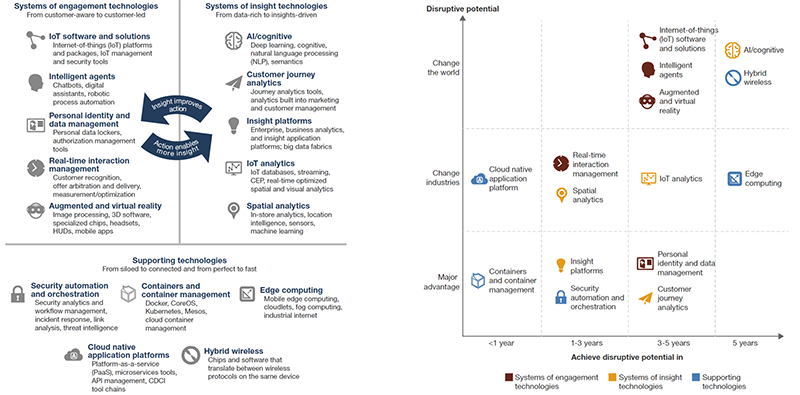 If we now put the third platform's "Cloud, Mobile, Analytics, and Social" next to innovation and emerging technologies, the road ahead appears. You need to look at all of the intersections and work out your approach to each of them. For example:
Cloud + Mobile + Innovation + AI
Cloud + Analytics + Innovation + IoT
Social + Innovation + Conversational UI
… it's also a simple formula to remember, if you ever are asked to quickly explain what to focus on in the coming three years!